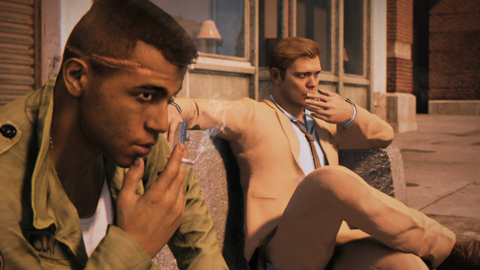 Hello, everyone!
If you're purchased Mafia III, please take a moment to bask in the knowledge that you are an individual of exceptional taste. You possess the gaming palate of a boss.
We'd even go so far to call your taste that of a Capo.
Now, if you're wondering about we've got coming down the pipeline for Mafia III after its launch, relax: We've got you covered.
The Mafia III website has a more detailed breakdown of what's planned, including a bunch of free content that's going to be available for everyone (even if you haven't bought the Season Pass). Check out the details below to see all the announced digital content that's planned Mafia III.
We've broken this down into two categories: Free content and Season Pass.
Free Content
Judge, Jury, and Executioner
The Judge, Jury & Executioner Weapons Pack is a set of free weapons added to Mafia III. The golden-skinned rifle, shotgun and silenced pistol can all be acquired by calling up the Mobile Store after you've downloaded the pack from your platform's marketplace. This was originally a pre-order early access bonus for some retailers.
New Character Outfits
New outfits will allow you to select a look that suits your tastes and define your take on Lincoln.
Vehicle Customization
You can customize your favorite cars with new wheels, personalized license plates, and paint jobs. Additionally, there are going to be even more options to boost the performance on your vehicles.
Car Races
Races are coming to New Bordeaux! Through them, you can earn money, new customization options for your car, and other rewards.
Season Pass
"Faster, Baby"
Lincoln joins forces with a former flame to take down a corrupt sheriff who is terrorizing Civil Rights activists on the outskirts of New Bordeaux.
"Sign of the Times"
Lincoln investigates a series of ritualistic killings in New Bordeaux at Father James' request. Tracking down the cult responsible for these murders takes Lincoln from the dark heart of the old bayou to the inner city.
"Stones Unturned"
Lincoln and John Donovan work to take down an old rival from their Vietnam days.