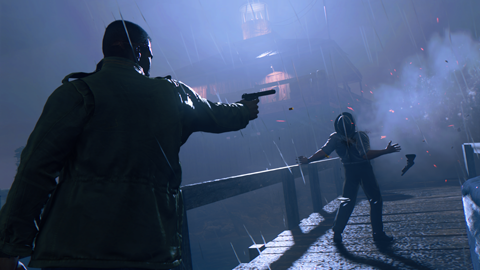 Hey there, everyone.
If you're playing Mafia III, there's a chance you may have a question about something in the game that you'd like to send us. So, we've put together a post of frequently asked questions, which you can read below.
We'll continue to update this post as new questions arise.
Do I Need PlayStation Plus or Xbox Live Gold to play Mafia III?
You don't need either of those services (or any online connectivity) to play the game straight out of the box. That said: We highly encourage that you connect to the internet and download updates and patches for the game.
I'd like to earn in-game cash/resources faster. Can I just buy it?
There are no shortcuts to establishing a criminal empire. At the moment, you can't buy any resources or items in the game. The only content currently available for purchase is what we've outlined with the game's season pass.
Can I customize Lincoln's personal appearance or any vehicles in the game?
At the time of launch, character and vehicle customization aren't available options. However: We have announced this is coming to the game in the near future and will be available for free.
Is there any way to upgrade my weapons or vehicles in the game?
Yes! As you progress through Mafia III, you will have the ability to upgrade the attributes of both the weaponry and vehicles at your disposal. These upgrades will become available as your lieutenants' loyalty to you increases.
How much do my choices matter in the game?
A lot! You can play through Mafia III multiple times and have vastly different gameplay/narrative experiences. Gameplay will differ based on whether or not you take a stealth approach to a mission, while narrative experiences will vary depending on how you balance your lieutenants' loyalty. The Mafia III YouTube channel has a great video showcasing all this, should you want to see it in action.
What's the purpose of wiretapping?
Once you gain the ability to place wiretaps around New Bordeaux, you'll be able to use them to gain all sorts of useful intel. If you access the Map Menu and follow the prompt to toggle the wiretap map, you'll see nearby enemies and collectible items highlighted. Additionally attempting to try to take over a racket in a tapped district will sometimes let you recruit a boss, which increases the total amount earned (without wiretapped info, you'll have no choice except to kill a racket boss when you confront them).
I want to place more wiretaps, but I'm out of fuses. How do I get more?
There's usually at least one fuse within the vicinity of a junction box (which are displayed on the game map as green icons). Once you've tapped a junction box, other fuses in the sector will be revealed on the map. If you activate your Intel View, any nearby fuses will be outlined in yellow.
Does playing both Mafia III: Rivals and Mafia III unlock any exclusive content in either game?
At this time, neither of those titles will provide exclusive content/items in the other game.
Can I steady my aim with a scoped weapon?
Yes: When you're using a weapon's scope mode, press the Left Control Stick on your Xbox controller (or L3 with your PlayStation 4).
How do I link my My2K account to Mafia III?
Pause your game, scroll over to the Game Menu, and then select "Link My2K" at the bottom of the list. From there, just follow the on-screen prompts.
Will Mafia III support the PS4 Pro?
Yes, indeed! Should you purchase a PS4 Pro, Mafia III will support the platform with enhanced display support, as well as increased graphical fidelity and effects, including motion blur, depth of field, visual effects, and more.